Follow this guide to get the most from your annual meeting experience
Log Into RSNA 2020
Click through to Meeting.RSNA.org for:
Access to educational programming and virtual exhibition (Note: All scheduled sessions and presentations will appear in the program at your local time zone and when you add them to your personal digital calendar through the meeting site, they will also be adjusted to your local time zone.)

You can find a complete list of on-demand sessions with links here.

Filter sessions by day, type and topic or subspecialty. You can also filter for featured and on-demand sessions or search by course number or presenter name.
Find Cases of the Day, education exhibits and digital posters.
Members with Premium access to the meeting will have access to all content that is offered on demand through April 30, 2021.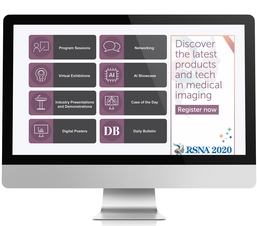 Virtual Exhibition Brings Exhibits to You
RSNA 2020 includes a fully interactive Virtual Exhibition to provide an experience as close as possible to a visit to the exhibit floor.
Explore the Virtual Exhibition, especially during the dedicated Industry Hour daily from noon to 2 p.m. (CT). In addition, watch for these Virtual Exhibition events:

Featured industry demonstrations 8:30 - 10:30 a.m. and 2 - 5:30 p.m.
Daily Industry Hour and Lunch & Learns noon - 2 p.m.
Pre-show industry presentations 7 - 8 a.m. on select days

Search for companies by name or search for a product, service or location.
Visit the AI Showcase to access exhibitors specializing in artificial intelligence (AI) applications.
Go to Industry Presentations to find AI and Innovation theater presentations along with a wide array of presentations and demonstrations by exhibiting companies.
A unique AI Imaging in Practice demonstration features 16 vendors illustrating an interoperative workflow integrating more than 26 systems into diagnosing clinical scenarios.
Virtual Connections
Connect online, exchange messages and arrange virtual meetings with colleagues and industry professionals.
On Meeting.RSNA.org, select Virtual Networking

Search for other attendees or company representatives.
Leave a message or schedule an online meeting.
Resources to Enhance Your Experience
Select Meeting Extras to:
Browse this year's award winners, R&E Foundation donors and committee volunteers in the Awards and Recognition section.
Take a wellness break (sponsored by Elsevier)
Participate in RSNA Play, an online scavenger hunt where you can earn points for visiting various parts of the meeting. There are two daily prizes up for grabs and a grand prize winner at the end of the competition.
RSNA 2020 Frequently Asked Questions
What are the meeting hours?
The RSNA 2020 live meeting will run from 8 a.m. to 6 p.m. CT Sunday, Nov. 29 through Saturday, Dec. 5. Additional on-demand content will be available 24 hours a day.
The Virtual Exhibition is available 24/7 during the live meeting; booth staff are available 8 a.m. - 6 p.m. CT daily.
I'm an RSNA member. Am I automatically registered for RSNA 2020?
No, even though registration is included with your membership, you must still register for RSNA 2020. To register, visit RSNA.org/Register.
After completing your registration, log into the Meeting.RSNA.org with your RSNA user name and password. For assistance, email RSNA20@rsna.org or call 1-630-571-2670 (outside the U.S. and Canada) or 1-800-381-6660 (U.S. and Canada only).
What if I can't attend a featured session at the scheduled time?
All live programming will be available on demand after the session has ended. Premium registrants have extended on-demand access to most meeting content until April 30, 2021.
How do I book a meeting with Industry representatives?
You can book a meeting with an industry partner through Virtual Networking at Meeting.RSNA.org.
How can I claim CME?
Any RSNA 2020 session you watch will automatically be added to the credit claiming site within 24 hours of viewing the session. In the new credit claiming system, premium registrants can also add sessions as they go, claim partial credit and print their certificates on demand.

And, be sure to complete evaluations for sessions you watched. Your feedback is essential for improving future annual meeting programming.
Where can I find my certificate of attendance?
Premium package registrants will access their Certificate of Attendance on the credit claiming site or at RSNA.org/Register. Standard package registrants will access their Certificate of Attendance from RSNA.org/Register.
Still have questions?
Email RSNA20@rsna.org or call 1-630-571-2670 (outside the U.S. and Canada) or 1-800-381-6660 (U.S. and Canada only).
Access the Virtual Assistant at Meeting.RSNA.org.