RSNA 2020 offers an array of programming and networking opportunities tailored to residents and fellows.
Highlighted by the annual RSNA Resident and Fellow Symposium, RSNA 2020 offers a wide array of scientific and educational content geared toward residents and fellows along with a variety of sessions of interest to trainees.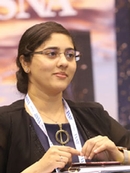 RSNA Resident and Fellow Symposium
The RSNA Resident and Fellow Symposium (MSRP31) will be available on-demand throughout RSNA 2020.
Topics include:
Job Market Update
Review of the Changing Radiology Marketplace
ABR Virtual Exams Overview
Radiology Residency Program Management in the COVID Era – Strategy and Reality
Resident Social Hour
Connect virtually with your peers at the RSNA 2020 Resident Social Hour. This event will be held on Zoom on Monday, Nov. 30 at 6 p.m. (CT).
The event will kick off with opening remarks followed by breakout rooms for continued conversation and networking with RSNA and ACR leaders. There will be time for Q&A before closing remarks.
Space is limited. Sign up now.
Fast 5
In this fast-paced session, held on Tuesday, Dec. 1 at 5 p.m. (CT), five speakers take the virtual stage for five minutes each to present novel ideas on non-clinical topics. This year's Fast 5 line-up includes topics currently affecting radiology trainees.
International Medical Graduates in Radiology: Challenges & Opportunities – SPFF31A
Can You Hear Me Now? A Resident's Perspective on Virtual Radiology Education – SPFF31D
Talking to Thumbnail Images: Radiology Education Today (& Tomorrow?) – SPFF31E
Take a Wellness Break
While participating in online sessions, it is important to take frequent breaks to stretch and process information. To that end, RSNA is offering wellness breaks throughout the meeting. The brief videos guide you through meditation, stretching and breathing exercises.
The Wellness Breaks are sponsored by Elsevier.
Other sessions that might be of interest to radiology trainees include:
Education Exhibits
Avoiding Common On-Call Errors: A Guided Tutorial for Radiology Residents – ER101-ED-X
Simplifying NI-RADS: A Resident's Guide to the New ACR Neck Imaging Reporting and Data Systems (NI-RADS) with Case-Based Examples and Self-Assessment Quiz – NR106-ED-X
AI in QI: Reviewing Uses of Artificial Intelligence in Pre-Interpretation Processes from Clinical Decision Support to Resident Education – HP116-ED-X
How to Read an Abdominal CT: Guidance for Radiology Residents from the Visual and Cognitive Sciences – HP117-ED-X
Contrast Enhanced Ultrasound (CEUS) for Residents: How To Do It and How To Read It – MS111-ED-X
Radiomics for Beginners: a Practical Issue for Residents – IN130-ED-X
Interactive Learning Module for Resident Education of Abdominal MRI Fundamentals and Common Pathologies – GI278-ED-X
Preparing for an Imaging Surge: COVID-19 Chest Radiograph Education within an Academic Radiology Training Program – SSCH01-10
Special Interest Session: Building a Diverse Radiology Workforce (Sponsored by the American Association for Women in Radiology) – SPSI22
Special Interest Session: The Academy Imaging Shark Tank: Preparing Imaging Investigators to Dive Into the 'Shark Tank' (Sponsored by the Academy for Radiology & Biomedical Imaging Research) – SPSI21