Since 2004, the CT Clinical Innovation Center (CT CIC) has been integrating clinical practice and innovation with research on a day-to-day basis.
Part of the Mayo Clinic, the CT CIC has spent the last 17 years developing cutting-edge CT technology and a range of novel clinical applications. As a result, it has firmly positioned itself as a case study on the importance of interdisciplinary partnerships.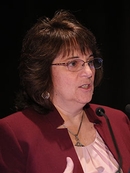 "Radiology is, by its very nature, a collaborative discipline," said Cynthia McCollough, PhD, CT CIC director. "Physics, engineering, computer science, technology, data sciences — these are just a few of the disciplines that are integral to the acquisition of patient data and the formation of images that convey clinically-meaningful information."
During Thursday's RSNA/AAPM Physics Symposium, Dr. McCollough, along with CT CIC Medical Director Joel G. Fletcher, MD, shared examples of how their practice — and patients — have benefited from collaboration.
Take for example the Center's work on low tube potential (kV) imaging. As Dr. Fletcher explained, low kV imaging increases iodine signal — making many diagnoses more conspicuous. It also makes increased noise more tolerable, opening the door to decreasing patient radiation or iodine doses.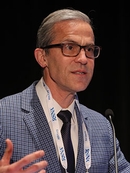 "The challenge is selecting the appropriate scan parameters to ensure good image quality because image noise increases in a complex fashion as patient size changes," Dr. Fletcher said. "Also, how much noise is acceptable depends on the diagnostic task."
To allow technologists to easily select the right parameters, the CT CIC team turned to collaboration. Bringing together physicists, radiologists, and technologists, the Center developed a method that expanded the use of low kV imaging to nearly all diagnostic tasks associated with abdominal imaging. "The method was implemented commercially, and now low kV imaging combined with iterative reconstruction is a daily part of our CT practice," Dr. Fletcher added.  
One example of collaboration in action saw the CT CIC working with scanner manufacturer Siemens Healthineers to develop photon counting CT.
As Dr. McCollough explained, the use of photon-counting detectors in CT scanners is really a reinvention of CT imaging. "The X-ray detector is the secret sauce that determines the quality of an image, somewhat like how the number of megapixels in your phone camera determines the quality of your photo," she said. "The images we are seeing are incredible — we can appreciate structures that were simply too small to be resolved with previous detector technologies."
According to Dr. McCollough, this breakthrough would not have been possible without a strong collaboration between NIH-funded imaging scientists, clinical radiologists, medical physicists and an industry partner capable of developing the detector technology.
Cross-Disciplinary Partnerships Succeed Exponentially
The common thread connecting success stories like these is that cross-disciplinary partnerships result in better outcomes than what any discipline can achieve on its own.
"If we learned anything over our two decades of working together, it's that successful collaboration is rooted in teamwork, respect, humility and friendship," Dr. McCollough said.    
For those looking to get involved in multi-disciplinary collaborations within their own institutions, Dr. Fletcher says a good place to start is visiting with the various stakeholders.
"Find out what the referring clinicians want to know that can't be answered in current images, what the radiologists can't see or measure well enough, and what situations make it difficult for the technologists to produce high-quality images," he said.
He also recommends paying attention to scans with suboptimal quality and engaging medical physicists to figure out what can be changed to improve the approach for future patients.
"Get involved in your subspecialty radiology society and make friends with your medical physicists — there are nerds just like you that love thinking about technology and how it can improve diagnosis for diseases you care about," Dr. Fletcher concluded. "You'll soon find out that 1 + 1 (a radiologist and a physicist) equals more than 2!"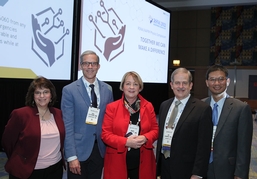 Access the RSNA/AAPM Symposium "Together We Can Make a Difference," (R3-CPH01) on demand at Meeting.RSNA.org.