Ten years after its adoption, digital breast tomosynthesis (DBT) continues to provide better cancer detection with fewer false positives than 2D digital mammography, according to a major study presented at RSNA 2021.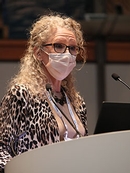 In DBT, an X-ray tube moves in an arc over the compressed breast, capturing multiple images from different angles. Many studies have shown DBT's superiority over 2D mammography since it was approved for commercial use in 2011, particularly in terms of the cancer detection rate and the recall rate, or the rate at which patients are called back for additional imaging. Less is known about its long-term performance.
"A lot of the DBT literature was published early on when there was this rush of excitement around it," said study lead author Liane E. Philpotts, MD, from the Yale School of Medicine in New Haven, CT. "In our study, we wanted to make sure that the benefits of DBT over 2D mammography held up over time."
Dr. Philpotts and colleagues assessed the performance of screening mammography with DBT over a series of one-year periods at their facility, one of the first to adopt the technology.
Over the 10 years, 237,108 DBT mammograms were performed, including 150,070 in non-dense breast tissue and 87,038 in dense breast tissue. DBT screening was performed at no charge to patients, resulting in data unbiased by breast density, risk factors, insurance coverage or other factors.
DBT Performs Better for Both Dense and Non-Dense Breast Tissue
The favorable DBT screening metrics held steady throughout the 10 years. Recall rate averaged 7.2% and, other than year 2, fluctuated between 6.5% and 8%. The cancer detection rate averaged 5.5 (compared to 4.5 with 2D mammography) and maintained a stable range of five to six cancers per 1,000 for each of 10 years. The false-negative rate for the first nine years averaged 0.6 per 1,000.
The favorable metrics were found in women with non-dense breast tissue and those with dense tissue. For women with non-dense tissue, the recall rate averaged 6.8% and the cancer detection rate was 5.8, while recall rates and cancer detection rates averaged 7.9% and 5.1, respectively, in women with dense tissue.
"The results showed that the screening metrics really did stand up over time," Dr. Philpotts said. "The recall rate was low compared to 2D data and the cancer detection rate stayed high."
During the first eight years of the study, the Yale system also had a mobile van equipped with 2D mammography. The same radiologists interpreted the exams, allowing the researchers to directly compare the performance of the two approaches. They found that the recall rate with 2D mammography was almost double that of DBT.
"Reducing false positives is a key for successful screening and tomosynthesis does that — and it has consistently done that for these 10 years."
During a question-and-answer session following the presentation, Dr. Philpotts was asked about the spike in the recall rate in year 2 of the study. She attributed that to the learning curve around the new technology.
"We were seeing things we hadn't seen before, and that may have caused people to overcall a little bit," she said.
Access the presentation, "A Decade of Digital Breast Tomosynthesis: How Has it Performed?" (SSNR01) on demand at Meeting.RSNA.org.