The use of e-cigarettes, also known as vaping, has risen over the past decade. In 2019, an illness linked to vaping was discovered following an outbreak of unexplained respiratory illnesses in Wisconsin. According to a Chest Journal study, vaping induced lung injury, which came to be known as e-cigarette or vaping-induced lung injury (EVALI), hospitalized 2,807 and killed 68 people between March 2019 and February 2020.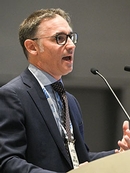 "Although e-cigarettes were initially introduced as a safer alternative to traditional cigarettes, the recent discovery that vaping can cause acute lung injury (ALI) has shown that it also has potential health risks," said Constantine Raptis, MD, a radiologist at the Washington University School of Medicine, who co-authored the study.
According to Dr. Raptis, who spoke at a Wednesday Hot Topics in Emergency Radiology session, patients with EVALI typically have a nonspecific clinical presentation characterized by a combination of respiratory, gastrointestinal and constitutional symptoms. However, before an EVALI diagnosis can be made, one must also show that the patient has a history of recent vaping within 90 days, other etiologies must be excluded, and opacities must be found on chest imaging.
"This makes EVALI a diagnosis of exclusion — and one that radiologists must play an important part in," Dr. Raptis said. "Imaging is important as radiologists have to be able to detect lung injury in its earliest stages."
Unfortunately, this is easier said than done.
"EVALI's symptoms can be very similar to many other respiratory diseases — including COVID-19," Dr. Raptis added. "Because both EVALI and COVID-19 can manifest with similar clinical and imaging findings, an accurate diagnosis is essential, especially considering the differences in treatment and infection prevention and control."  
The CT Imaging Appearances of EVALI Patients
To help radiologists make the distinction between EVALI, COVID-19 and other forms of ALI, Dr. Raptis highlighted some of the Chest Journal study's key findings. The retrospective study described the CT imaging appearances of 160 subjects diagnosed with EVALI — the largest cohort collected to date.
According to the study, most patients with EVALI have CT imaging findings along a spectrum ranging from organizing pneumonia (OP) to diffuse alveolar damage (DAD), both of which can mimic causes of ALI. "This is why I believe vaping exposure should be included in the clinical history of all patients with CT findings of ALI without another known cause — particularly if they are young and otherwise healthy," Dr. Raptis said. 
Dr. Raptis went on to say that some patients in the EVALI cohort demonstrated CT findings less commonly seen in etiologies of ALI, including superimposed upper lobe predominant centrilobular nodules (CNs) and peribronchovascular (PBV) sparing. Whenever a radiologist sees these findings in conjunction with the more typical manifestations of ALI, EVALI should be considered as a potential cause.
"Radiologists will continuously encounter acute/subacute lung injury from different triggers, including vaping," Dr. Raptis concluded. "By being able to recognize the CT findings of lung injury, we will be properly equipped to understand 'hot new diseases' like EVALI and recognize their clinical importance."
Access the presentation, "Hot Topics in Emergency Radiology," (W2-CMS02) on demand at Meeting.RSNA.org.