Using an auto-assignment tool for non-stat MR and CTs can even out workloads in radiology departments and improve turnaround times (TATs) for stat studies. The study, conducted at Texas Children's Hospital, aimed to address concerns among the members of the neuroradiology department regarding workload distribution.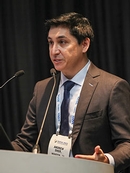 "Issues ranged from the feeling that some radiologists were reading more than their fair share and impacting the productivity of others, to some radiologists not contributing enough, to others preferentially reading less time-consuming studies," said Andrew Sher, MD, assistant professor of radiology and chief of radiology informatics and nuclear radiology at Texas Children's Hospital in Houston.
These problems, noted Dr. Sher, can lead to burnout and potential turnover. To avoid these issues, he and his colleagues created an intervention to balance the neuroradiologists' contributions more fairly.
Implementing a Partially Automated Workflow
The researchers used software to automate the assignment of non-stat MR and CTs to individual radiologists from 7 a.m. to 5 p.m., Monday through Friday, at three-minute intervals.
"Stat studies remained unassigned, with the intent that higher capacity readers could preferentially interpret them in a timely manner," Dr. Sher explained.
Dr. Sher and his colleagues compared data from the radiology analytics platform, scheduling software and peer learning database at their institution from January through March 2020 (pre-intervention) and January through March 2021 (after implementing the new workflow on Dec. 1, 2020). They used Levene's and Fisher's exact tests to analyze the following metrics:
Mean of assigned studies interpreted per radiologist
Average work relative value units (wRVUs) per radiologist
Variability of wRVUs among radiologists
TATs for stat and non-stat exams
Frequency of errors
Evaluating TATs and Workload Distribution
During the pre-intervention period, there were 3,430 exams, including 650 stat exams and 2,780 non-stat exams. In the post-intervention period, there were 3,536 exams, including 629 stat exams and 2,907 non-stat exams.
The mean TAT for non-stat exams stayed essentially the same, going from 142 minutes in the pre-intervention period to 144 minutes after the workflow was introduced; however, the mean TAT for stat exams decreased from 83 minutes to 59 minutes after the workflow was implemented.
According to Dr. Sher, a mean of 91% of the assigned studies were read by the assigned radiologist. The partially automated workflow led to a more even distribution of hourly productivity, with the range of the average hourly wRVU/radiologist decreasing by 17.8% wRVU, and standard deviation decreasing by 26.2%.
Dr. Sher's advice for other institutions is to customize auto-assignment software based on input from the radiologists who will be using it, and not to force radiologists to read studies they aren't comfortable reading.
"We had a few speedbumps at the beginning, but we worked through them," Dr. Sher said, noting the tool has had multiple iterations and refinements, and "has become an essential part of the daily workflow."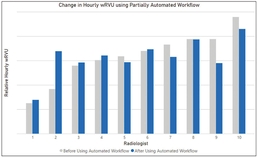 Access the presentation, "Partially Automating The Workflow To Decrease Cherry Picking In An Academic Radiology Department," (SSIN06-6) on demand at Meeting.RSNA.org.