"If we don't engage as players in this value-based health care arena, then other specialties and other organizations will be looking to define their role in value-based health care, and we may become pawns to their initiatives," said James A. Brink, MD.
Dr. Brink is chair of radiology and chief of Enterprise Radiology at Mass General Brigham. Dr. Brink also serves as radiologist-in-chief at Massachusetts General Hospital and is the Juan M. Taveras Professor of Radiology at Harvard Medical School.
In his Monday Plenary lecture, Dr. Brink drew from a variety of published studies and institutional efforts, and shared his thoughts on how to establish and assert the value of radiology in the health care continuum.
He said that whether working alone or as parts of collective departments, radiologists must understand the principles behind cost allocation and the value-chain concept and must take value-based health care into account at all stages of care delivery.
While he acknowledged the importance of promoting high-value imaging, Dr. Brink first spoke about the importance of eliminating low-value imaging and attributed poor imaging decisions, in part, to organizational culture.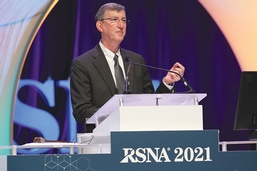 Dr. Brink said it is necessary to develop policies and interventions to better align patient and clinician motivations. "We need to overcome cultural challenges to avoid those knee-jerk reflex actions that might lead us to delivering low-value care."
Dr. Brink noted that decision support may be the most effective tool in eliminating low-value imaging. He recommended practitioners use decision support tools before imaging to help determine the most appropriate imaging exams and said radiologists can leverage them after imaging to ensure the most appropriate recommendations are made according to imaging findings.
Promoting High-Value Imaging and Reducing Costs
Dr. Brink said improved quality and better patient experience are two key elements of the high-value imaging equation. "It's really about improving quality, accurate diagnoses and precise measurements, improving experience with timely and convenient service, and integrating imaging care into the care continuum of the patient's experiences," he said.
He cited strategies for patient engagement, virtual care, ambulatory access and care coordination as important considerations in delivering the best patient experience. He also addressed the impact of administration in the equation.
Turning to efforts to reduce imaging costs and increase efficiency, Dr. Brink said it was important to shift service from high cost sites like hospitals to lower cost sites like clinics. He said to provide patients and families with a seamless and consistent experience wherever they are within the health system, it's necessary to control the cost of care by both site of service and by leveraging decision support tools.
Dr. Brink participated in a recent effort conducted by the International Society for Strategic Studies in Radiology to develop a strategic plan to guide radiology to a new era of value-based health care. The experience resulted in a series of targeted goal areas, from which six prioritized tactics emerged. He plans to work with leaders of health care organizations to look at programs they may pursue to incorporate these tactics.
Access the presentation, "Radiology in the Value-Based Healthcare Arena: Player or Pawn?" (M3-PL02) on demand at Meeting.RSNA.org
.