Six years after the ICE3 Trial, the first of its kind, large scale multi-center trial in the world to evaluate cryoablation using ultrasound guidance as a primary treatment for breast cancer without surgical lumpectomy, the results show the method is safe and has a high success rate, according to research presented on Tuesday.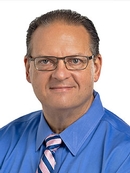 Kenneth Tomkovich, MD, interventional radiologist at Princeton Radiology, Princeton, NJ, said he has been working on the topic of cryoablation for more than a decade. While it is growing in popularity as an alternative to surgery, at the time of the clinical trial, it required a leap of faith from patients.
In 2014, the clinical trial enrolled 194 patients with unifocal breast cancer measuring 1.5 cm or less. All patients underwent ultrasound guided cryoablation using the liquid nitrogen based ProSense™ system from IceCure Medical.
Patients underwent a freeze-thaw-freeze cycle of approximately eight minutes each using cryoablation with the goal of a visible ice ball producing an adequate lethal zone of ice around the tumor. All patients were followed with mammography at six and 12 months and then annually up to 60 months post ablation.
No recurrence was reported in 190 out of 194 patients, or a 98% success rate.
"That's pretty amazing," Dr. Tomkovich said.
Cryoablation Requires Less Office Time, Stress and Recovery
Dr. Tomkovich was pleasantly surprised at the results and hopes it is used more in the future.
"This method is starting to gain widespread acceptance and I'm very hopeful," Dr. Tomkovich said. "We hope in the next three to five years this is going to be a new common way to treat breast cancer and it will have huge benefits for patients."
The procedure is far less invasive than a mastectomy or lumpectomy surgery. It only requires a 4 mm incision in the breast and women can be awake during the cryoablation, which takes about 45 minutes in a doctor's office, meaning lower costs, less stress, shorter recovery time, no severe adverse events and many other benefits for both patients and health care providers.
"For patients this is a no brainer. This could change the way we treat breast cancer around the world," Dr. Tomkovich said. "It could change the instant fear a woman feels when she hears there is something on her mammogram, assuming she will need surgery and chemotherapy or radiation treatment. What if we could take away that fear and say, 'We found the cancer soon enough that all we need to do is put a probe in and freeze it, and you don't need surgery.'"
Dr. Tomkovich said that in his practice, as many as 60% of cancers he finds would qualify for this procedure, but worldwide the biggest barrier to adoption is lack of knowledge, both among radiologists and patients.
Access the presentation, "Primary Treatment of Low Risk Breast Cancers Using Image-Guided Cryoablation: A 6-Year Update of the ICE3 Trial," (SSBR06) on demand at Meeting.RSNA.org.