Radiology exams that begin on time or early, and less overall time spent by patients in the imaging center are among the benefits of a virtual waiting room (VWR) and digital forms.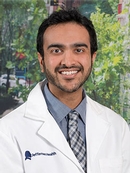 Digital health care accelerated rapidly in 2020, as COVID-19 cases were skyrocketing and health care facilities increased protocols to keep patients and staff safe.
"We had to have gaps in our schedule to prevent crowding in the waiting rooms and to allow time for enhanced cleaning," said Vishal Desai, MD, assistant professor of radiology, Thomas Jefferson University, Philadelphia. "How do we maintain appointment slots while ensuring safety? The key is to optimize the non-imaging portion of appointments – the pre-procedure forms, the check-in process and the waiting rooms."
Technology Transformed Appointment Process
Thomas Jefferson University radiologists and IT Innovation team members transformed their longstanding, traditional health care appointment process into a digital one.
They streamlined and digitized steps that had previously led to patient confusion, delays and social crowding, such as writing down directions, navigating to the center and completing three to five forms by hand in the waiting room.
The new process was piloted in July 2020 with MRI patients at Thomas Jefferson University's busiest outpatient imaging center and gradually expanded thereafter. Patients were invited when they booked an appointment to opt in to receive text messages. A text confirmation included appointment details and a link for directions.
The day before their appointment, patients electronically completed pre-procedure forms, which were linked to their electronic health record. Staff no longer had to manually scan the forms during check-in and content was available to the front desk and MRI tech.
Patients checked in by clicking a text link and waited outside the center until they were notified to enter. Inside, they only needed to complete a COVID screening and electronically sign their previously submitted forms before changing for the imaging study.
"Patients bypass the crowded waiting room and there's no scrambling to fill out forms," Dr. Desai said. "It's overall a smoother, more efficient and less confusing process."
Appointments Began Nearly 13 Minutes Early with VWR
Of the 1,749 MRI patients who used the VWR for text confirmations and reminders from October 2020 through April 2021, 226 opted for virtual check-in.
Wait times were cut in half (10.6 minutes for the traditional waiting room and 5.5 minutes VWR). On average, the exam began 12.6 minutes before the scheduled appointment time with the VWR versus 2.7 minutes after the appointment time with the traditional waiting room.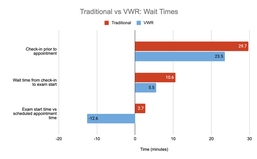 Pre-procedure forms were compared for a subset of 41 knee MRI patients.
More than 1 in 4 patients who completed the forms in the waiting room didn't answer all questions, and 1 in 10 handwritten responses were illegible. The electronic forms were 100% complete and legible because all responses were typed and required for submission.
More than 90% of the 236 VWR users who completed a voluntary, anonymous survey said they would use the VWR again. There were no significant differences among age groups.
Access the presentation, "Personalized Virtual Waiting Room: Digitized Pre-procedure Forms: Radiology Workflow Innovations Driven by the COVID-19 Pandemic,"(SSNI02) on demand at Meeting.RSNA.org.