Radiology education is constantly evolving and educators need to continue to evolve their methods and practices to provide the best opportunities for students. Whether through new technology or old methods like storytelling, there is room for innovation in radiology education.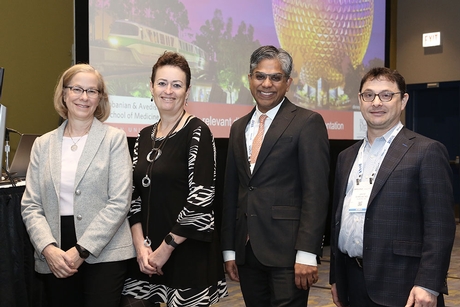 "You need to embrace the concept of experimentation in your teaching, be willing to share your ideas with others and be open to getting feedback and learning from colleagues," said Priscilla Slanetz, MD, MPH, professor of radiology at Boston University, who moderated the Thursday session.
Narrowing The Education Gap Between Virtual and In-Person
In recent years, most radiology teaching programs have relied more on technology, whether through virtual lectures or other online tools to collaborate and teach, according to Joseph Philip, MD, Baylor University Medical Center in Dallas, but it can also lead to what he called "Zoom fatigue."
"We want to build shared experiences and bring the togetherness back in these learning experiences," he said.
Dr. Philip added that technology should be used to transform the learning experience—add to it, modify it, redefine it, or augment it—not just substitute for an in-person experience. For example, polls and whiteboards can help encourage students to participate and let a teacher know where there is confusion before moving on. Apps and games can keep students engaged and make learning fun.
While technology can sometimes make people feel isolated, it also has the potential to bring learners together across institutions.
Jessica Robbins, MD, professor of radiology and vice chair of faculty development at the University of Wisconsin, Madison, presented remotely and highlighted RadDiscord, a chat server created in 2020 to allow radiology residents to get together and study for their board exams during the difficult, early months of the pandemic. It turned into an online resource for thousands of students across the world to ask questions, discuss cases, debate concepts, share times, get career advice and build friendships.
"It turned into a gigantic peer-to-peer learning network and a really innovative way to use what was originally an online gaming platform for professional development," Dr. Robbins said.
Petra Lewis, MBBS, professor of radiology at Dartmouth, Lebanon, NH, discussed the importance of setting expectations about learning based on the level of the learner. If they are a novice learner, prepare for more side-by-side mentoring. If they are a 4th year trainee, there only might be slight oversight.
"Techniques to try with learners are identify the muddiest point for them, teach through drawing and remember that your learners can also be teachers," Dr. Lewis said.
Dr. Lewis demonstrated her rudimentary drawings that can often help trainees understand a concept better than if they are looking at a medical image, where they might be too focused on the image and not on the concept.
Creativity Matters in Education
No matter the medium, educators should be creative about how they teach their lessons, said David Sarkany, MD, Staten Island University Hospital. Storytelling, he said, is key to how radiologists do their job and a great way for students to learn interpretive and non-interpretive skills.
"Anytime we go into the reading room we are developing a story. The patient has a clinical history, then we look through the images and we are telling ourselves a story about what is going on with that patient," Dr. Sarkany said. "Storytelling works for all learners."
He encouraged the audience to use things like art, music and other creative endeavors to connect with students and share lessons that may go beyond the reading room.
"Art can promote human understanding between a patient and a doctor," he concluded. "More importantly, it can improve the patient's experience and connect us all."
Access the presentation, "Innovative Education for the Future of Radiology," (R3-CNPM21) on demand at Meeting.RSNA.org.