Whether it be AI, computer-aided diagnosis (CAD) or deep learning, medical imaging's ever-increasing technological complexity means that collaboration is more critical than ever.
"A close partnership between radiology and medical physics is central to delivering patients the highest quality of care," said Guang-Hong Chen, PhD, a professor of physics and radiology at the University of Wisconsin, Madison.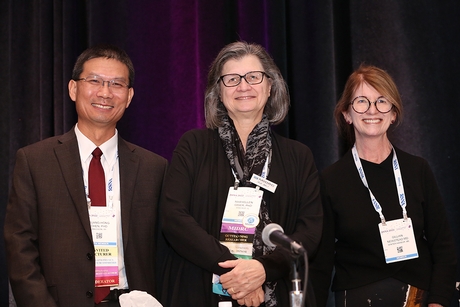 Dr. Chen moderated Thursday's annual RSNA/American Association of Physicists in Medicine (AAPM) Symposium, where he was joined by Maryellen Giger, PhD, and Gillian Newstead, MD, both professors of radiology at the University of Chicago. The symposium explored how radiologists can work with a multidisciplinary team to enhance the patient experience.
"Innovation in imaging is essential to modern radiology practices," Dr. Chen added. "Rigorous validation and seamless translation of innovative imaging technology into the radiology workflow is how we optimize care."
According to Drs. Giger and Newstead, that seamless translation can only happen if it is rooted in collaboration.
A Case Study in the Importance of Collaboration
While Drs. Giger and Newstead have been collaborating since the early 2000s, radiologists and medical physicists have been collaborating for nearly as long as there's been imaging. Perhaps nowhere is the benefit of this collaboration more pronounced than in breast imaging.
"Breast cancer imaging is a case study in why collaboration between radiologists and medical physicists is so important," Dr. Newstead said.
Breast cancer is the 2nd leading cause of cancer-related deaths in women around the world.
Not only has this collaboration contributed to the advancement of imaging technology and thus image quality, but also image interpretation. As to the latter, the two shared how their decades-long collaboration on developing and translating CAD and AI systems into clinical practice has improved the diagnosis of breast cancer.
"One of our collaborations involved working on Computer-Aided Diagnosis (CADx) solutions for the analysis of breast MRIs to aid cancer diagnosis–a collaboration that led to the first FDA-cleared commercial CADx system," Dr. Giger said.
During that project, the two worked together to define and gather datasets, discuss potential lesion descriptors for translation to machine learning methods, and determine efficient user displays. They also ran clinical reader studies to demonstrate the improvement in radiologists' performance when the computer aid was used in the interpretation process.
A Collaborative Response to COVID-19
But the benefits of collaboration are by no means limited to breast cancer. To illustrate, Dr. Giger discussed her recent role in creating the Medical Imaging and Data Resource Center (MIDRC). "The MIDRC is medical physicists and radiologists' collaborative response to the COVID-19 pandemic," she said.
Hosted by the University of Chicago, the MIDRC is a multi-institutional initiative co-led by medical physicists and radiologists from the American College of Radiology (ACR), RSNA and the AAPM. It currently hosts over 100,000 imaging studies that are available to the public.
"It is because of this collaboration that the MIDRC is able to provide researchers with a wealth of imaging and associated clinical data that will enable the innovation in machine learning we need to fight COVID-19," Dr. Giger added.
Continued Collaboration
Despite the many successes that have come from radiologists and medical physicists working together, Dr. Giger says there's more work to be done.
"Only by working together can we identify problems, see solutions and then take those solutions from the lab and apply them to clinical practice," she said.
"We simply cannot do this alone, so let's keep collaborating," Dr. Newstead concluded.
Access the plenary lecture, "RSNA/AAPM Symposium: Together We Can Make A Difference," (R4-PL07) on demand at Meeting.RSNA.org.