Educational session offers a view into the patient's experiences before, during and after a radiology encounter.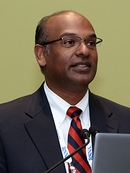 As radiology transitions from a volume-driven reimbursement environment to a value-driven one, it is imperative to focus on the patient and their journey through the health care system to improve outcomes, according to Arun Krishnaraj, MD, MPH, associate professor of radiology and medical imaging at the University of Virginia Health System.
Dr. Krishnaraj also serves as vice chair of quality and safety, director of the Division of Body Imaging, chief of the abdominal imaging section, and director of body procedures at the institution.
At an educational session held on Thursday, he noted that he and his colleagues chose to focus on "Enhancing Patient Journeys Through Imaging: Leveraging Informatics" because imaging is now a key component in nearly every health care encounter.
"Because of this," he explained, "we felt it would be important to dedicate an entire session to all aspects of that journey where it involves radiology to better educate our colleagues on how each radiologist and their respective department or community practices can add value to this journey."
Understanding the Patient Experience
The "patient journey" is what happens before, during and after a radiology encounter, explained Dr. Krishnaraj.
"Most folks consider the 'imaging component' of a patient's journey to be the acquisition of the images, but that is only a small component of the 'imaging value chain,' a phrase and model coined by Giles Boland, MD, and Rich Duszak, MD," he asserted.
First, patients need to understand if their imaging is warranted.
He noted this was a primary goal in creating the patient information website RadiologyInfo.org, a collaboration between RSNA and the American College of Radiology.
Second, patients need to be prepared for what to expect.
"Some imaging requires no solid or liquid intake prior to imaging, while other imaging necessitates pre-medication to reduce the risk of a contrast reaction," Dr. Krishnaraj said. "Still others may require coordination with another specialty, such as cardiology, for patients with pacemakers undergoing MRI."
Finally, he said, increasing familiarity with the actual experience of undergoing certain types of exams could improve image quality.
The imaging encounter does not end after imaging is acquired, Dr. Krishnaraj noted.
"Patients often anxiously await results and experience something known as 'scanxiety,'" he said. "And how are the results delivered—via an electronic medical record, via video chat or in-person? Who delivers them—a radiologist or a referring provider—and are they in a patient-friendly format?"
Using Technology to Enhance the Patient Journey
We must adapt to the changing world of health care by leveraging our technologies to make the patient experience better, not more cumbersome and difficult, Dr. Krishnaraj said.
"Why can't our health care encounters benefit from improvements in technology that our consumer lives have benefited from?" he asked.
"Health care doesn't have to be as difficult and burdensome as it currently is," he added. "Imaging informatics tools—at least in the domain of imaging—can deliver on the promise of making the patient journey one that is of high value."
Access the presentation, "Enhancing Patient Journeys Through Imaging: Leveraging Informatics," (R4-CIN18) on demand at Meeting.RSNA.org.