Lowered abnormal interpretation (recall) rates and decreased false positive rates are among key reasons to use digital breast tomosynthesis (DBT) screening, according to a Wednesday presenter.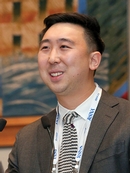 "One of the more important results of our study is the effect of DBT on lowering abnormal interpretation rates of screening mammography, especially in younger women and those receiving baseline examinations," said presenter Ted Goh, MD, an R1 (PGY-2) diagnostic radiology resident at Boston Medical Center, a large urban safety-net hospital.
For the study, Dr. Goh and colleagues conducted a retrospective review of all DBT and digital mammography (DM) screening mammograms conducted between January 2012 and December 2018 on women 40 years of age and older.
The team used a propensity score matching algorithm to control for the differential selection of DBT versus DM based on age, breast density category and potential prior screening. They also manually extracted BI-RADS category, breast density and mammographic finding data from imaging report texts.
"Using our institution's tumor registry, we identified screen-detected and interval cancer diagnoses," said Dr. Goh, who noted that the researchers performed statistical analyses to compare screening performance and cancer outcomes between DM and DBT matched cohorts.
Results Highlight DBT's Role in Reduced Unnecessary Recall
From an initial pool of 72,960 screening examinations, they identified 26,250 (13,125 DM and 13,125 DBT) performed in 16,060 women. "Abnormal interpretation for DBT were significantly lower than that of DM," said Dr. Goh who highlighted a reduction in unnecessary recall rates for DBT at 12.1% compared to 14.7% for DM.
Results showed greater specificity for DBT at 88.1% versus 85.7% for DM. Improved abnormal interpretation rates and specificity were observed with DBT when women were stratified by age, fatty versus dense breast tissue and baseline exams.
Despite these findings, Dr. Goh noted that there was no significant difference in cancer detection rate, interval cancer rate, sensitivity or positive predictive value between groups. "This was unexpected, as several studies in the literature have reported increased cancer detection with DBT screening," he said. "It may be partially due to our study design that inevitably reduced our sample size, and to the fact that most of our cancer cases had actually been detected in the diagnostic setting where patients are receiving exams due to symptoms, rather than screening."
A total of 94 cancers were detected—56 for DM and 38 for DBT—with most invasive and in situ cancers identified in Black women, largely detected through DM screening.
"These patients were disproportionately screened using DM rather than DBT compared to women of other races, a finding that is consistent with prior research and racial disparities in screening mammography," Dr. Goh said.
He emphasized radiologists' role in leading outreach initiatives to improve DBT access and said that radiologists can work with local, government-funded early detection programs and hospital-based patient navigators to implement culturally sensitive educational initiatives.
"Radiologists may also combat access problems by working with breast cancer support groups and developing partnerships with mobile mammography clinics to introduce screening services in underserved neighborhoods," he said. "Ultimately, each imaging center possesses its own unique challenges to improve screening engagement in its local area."
Dr. Goh's research earned an RSNA Trainee Research Prize.
Access the presentation, "Impact of Digital Breast Tomosynthesis," (M4-RCP48) on demand at Meeting.RSNA.org.