Prostate cancer detection through MRI is difficult and can be prone to reader variability among radiologists, but AI solutions are demonstrating the potential to assist, according to research presented at a Monday session.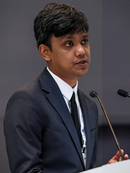 Until recently, most existing studies on using AI for prostate cancer have suffered from having a small sample size or issues with their evaluation formats, said Anindo Saha, MSc, PhD candidate in the Department of Radiology, Nuclear Medicine and Anatomy at Radboud University Medical Center in the Netherlands, who presented, Artificial Intelligence and Radiologists at Prostate Cancer Detection in MRI: The PI-CAI Challenge.
The PI-CAI (Prostate Imaging: Cancer AI) is a challenge with more than 10,000 carefully curated prostate MRI exams to validate modern AI algorithms. The initiative is also facilitating a reader study with 79 international prostate radiologists (55 centers in 22 countries) to estimate clinicians' performance at this same task. Key aspects of the study have been established with an international multi-disciplinary scientific advisory board with a goal of unifying and standardizing present-day guidelines for what is one of the most prevalent cancers in men worldwide.
"Together, we plan to develop the best prostate-AI models for this task, establish how diagnostically accurate are present-day solutions and determine whether prostate-AI is truly ready for clinical adoption," Saha said.
Challenge Seeks to Standardize Present Prostate Cancer Guidelines
More than 220 AI algorithms have been submitted from more than 50 countries.
"Many research groups across industry and academia are actively investigating prostate-AI models to support the clinical workflow of prostate cancer management. However, there is a lack of public resources to facilitate rigorous studies, and a lack of expert consensus guidelines to set the research agenda in this domain," Saha said. "With the PI-CAI challenge, we are trying to alleviate both of these limitations, and in turn, support the research community at large."
More than one million men are diagnosed with prostate cancer each year worldwide, so AI could have a significant impact on clinical routine by allowing radiologists to quickly and accurately assess prostate MRIs. In turn for patients, this could reduce unnecessary biopsies and alleviate overdiagnosis.
"We hope to make more people are aware of the resources that we have made publicly available through the PI-CAI challenge, including a public dataset of 1,500 prostate MRI exams, open-source libraries for training prostate-AI models, platform for independent validation of prostate-AI models on a common testing cohort," Saha said. "We hope that the availability of such resources will encourage others to participate and contribute to this cause."
Access the presentation, "Artificial Intelligence and Radiologists at Prostate Cancer Detection in MRI: The PI-CAI Challenge," (M6-SSGU03-5) on demand at Meeting.RSNA.org.