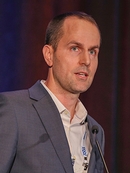 Historically, much of radiology global health service in low- and middle-income countries (LMICs) has emphasized on-site support, education and imaging with radiographs and point-of-care ultrasound.
This is now starting to change, thanks in large part to these countries having increased access to CT imaging.
"With the increased availability and utilization of CT imaging for routine patient care in LMICs comes new opportunities for radiologists across the globe to perform research, remote consultations, interpretations and training via cloud-based image sharing platforms," said Michael Hartung, MD, assistant professor in abdominal imaging and intervention at the University of Wisconsin (UW), Madison.
To illustrate just how big an opportunity this is, during a Tuesday session Dr. Hartung shared the results of his recent study that compared the diagnostic yield and variety of abdominopelvic CT diagnoses for abdominal pain in a U.S. academic medical center (UW) and a rural Kenyan teaching hospital (Tenwek Hospital).
"By highlighting the similarities, differences and challenges faced in diagnosing and treating patients in such different health care and country settings, we hoped to foster cross-border discussions and, ultimately, stimulate interest and research in global health radiology programs," Dr. Hartung explained.
Study Identified Several Major Differences
The retrospective study utilized sequential samples of 750 adults from both hospitals who underwent CT for abdominal pain between February 2019 and July 2020. The most common type of exam was a routine CT with IV and often oral contrast and imaging in the exams's portal venous phase.
Using the shared imaging data, researchers identified several major differences between the two hospitals, starting with a much higher percentage of comparison imaging available for UW patients (72% versus 6% at Tenwek). Regarding the CT diagnoses, 40% of UW patients had a negative exam compared to 23% of Tenwek patients, and 58% had an acute abdomen diagnosis compared to Tenwek's 38%.
Furthermore, 40% of Tenwek patients received a new cancer diagnosis, which was at an even greater overall percentage than the acute abdomen diagnoses.
Despite their substantially different health care settings, both institutions shared 10 of their top 15 most common diagnoses, such as small bowel obstruction, appendicitis and pancreatitis. Each institution also had unique diagnoses, including tuberculosis, hydatid disease and peritonitis at Tenwek, and colitis, diverticulitis and constipation at UW.
Expanding Cross-Cultural Competence In Radiology
According to Dr. Hartung, having access to such imaging data can provide key information and insights for academic programs or organizations looking to develop successful global health partnerships.
To stress the importance of such partnerships and program development, Dr. Hartung noted a recent report by Dr. Frank Minja, et al. that found that only 18 of the 54 African sovereign countries (excluding disputed territories), have well-established diagnostic radiology residency programs.
"By comparing the most common diagnoses, we hope to elucidate differences in the different patient populations and settings and expand cross-cultural competence in radiology," he said.
Dr. Hartung also said that the data can be used to develop location-specific radiology curricula for trainees in either location. It can also provide a basis for 'reordering' a typical differential diagnosis into a location- and culture-specific context that may allow for the differences in prevalence and presentations of disease at a given institution.
"This data increases awareness about the challenges to providing medical care in LMICs and may inspire others to invest in developing the health care infrastructure that will bring lasting change to these regions," Dr. Hartung concluded.
Access the presentation, "CT without borders: comparison of CT diagnoses for abdominal pain in a US academic medical center and a teaching hospital in rural Kenya," (T1-SSER01-3) on demand at Meeting.RSNA.org.