Physicians interested in changing the future of medicine should look in an unlikely place, says Nisha Mehta, MD.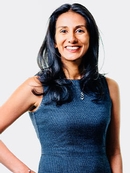 "Social media has the power to unite physicians and amplify physician voices with the ultimate goal of advocating on behalf of physicians and patients," said Dr. Mehta, who splits her time between diagnostic radiology at the U.S. Department of Veteran Affairs, writing and speaking.
Five years ago, Dr. Mehta began writing on the need for cultural change in medicine, health policy issues and physician burnout.
"I remember receiving emails from mentors that I shouldn't be writing about these topics because it may impact my ability to get a job or reduce my academic merit in some way," she said. "It's a big change from today's environment where we can't go to a conference or open a journal without seeing something about the topic."
Today's challenge, according to Dr. Mehta, is moving from awareness to action.
"So many of us are disillusioned and disempowered, we feel there is nothing we can do but stand back and watch the erosion of our profession while other players in the health care space determine its future," she said.
Dr. Mehta acknowledged the many factors stacked against the physician community including a lack of lobbying power — there are less than 1 million physicians practicing in the U.S. today — relative to the $4 trillion health care industry, a lack of time and resources, and a big PR problem.
"Many in the public view physicians as the face of an industry plagued by frustration and costs, despite the fact that we don't have control over many of the factors that cause those issues," she said.
Powerful Connections Through Community
Social media offers a way to overcome some of these barriers by making it possible to interact and network with other physicians 24/7.
"When these connections happen on a larger scale, we as a community become more powerful and our ability to come together to advocate for our common concerns and needs becomes much greater," she said.
Dr. Mehta herself has leveraged the power of social media by creating an online Facebook group and a physician community on LinkedIn that total more than 170,000 verified physician members. Discussion topics include burnout, physician challenges, what needs to change in medicine, and the everyday experiences of being a physician.
When the COVID-19 pandemic hit, she was invited to submit a document to senior congressional leadership detailing the needs of the medical community to meet the increased demand for patient care.
"We gathered input from our communities and other physician communities and put them in a document called the COVID Pandemic Physician Protection Act that outlined key areas for concerns during COVID and globally," said Dr. Mehta.
The effort helped secure an allotment of billions in federal dollars supporting physician practices and health care institutions. It also garnered widespread media coverage of the pressing needs of physicians, not only for PPE, but also to address issues such as suicide rates, malpractice protections and physician shortages.
"I hope this is just the beginning of how we can leverage our collective voices," Dr. Mehta said. "Over time, our collective actions can become a movement and that's really where change happens."
For More Information:
View the RSNA 2020 session presentation Advocacy in the Age of a Pandemic: Mobilizing Social Media Communities to Affect Change — RC516 at RSNA2020.RSNA.org.